Sunday, May 04, 2008


Exuberant

Wow, I didn't realize that I've been on weeks' hiatus now. I don't know if maybe I've just lost the passion to write or the ability to blog interestingly and now forced to think that I suck at this job. Hahaa! I mean look, even my blog URL has now been erased in my firefox history and isn't even on one of my saved pages anymore. what the heck? But i am once again influenced to continue due to Stephie's newly revived
blog
!! OMG IT'S REVAMPED! Check it out!
Scribefire looks so much better now and there are more features! yeahh! hehee I can now post youtube videos and flickr photos but what I noticed is that all my pages are saved as drafts even if I leave the checkbox unchecked. Is it just me or is there a bug in scribefire? Oh well I'll still write using scribefire and just check using blogger. The good thing about scribefire is that they save whatever you write. Yep, IT ACTUALLY SAVES which is a good thing for me, the blogger who has the tendency to erase posts. I'm just unlucky. Or maybe I shouldn't say that or else I'll get even unluckier. Oh well.. I'm talking to myself again.
So it's summer, May to be precise and what have I done? Have i found a job that has willingly taken me in that allows minimum-pay wage? Have I learned how to drive the
streets
car? Have I beaten my bro at something? ALL NO!!
NO!!!!
NO!!!
*sighs dramatically* (yeah am a drama queen, go figure)
I tell ya what I've been doing. I've been going to RCBC tower, makati (ooh cool!) to rehearse with my co-AYF NDAs (alfonso yuchengco foundation national discipline awardees! - what a mouthful!) for our broadway production of sorts EVERY SINGLE DAY LAST APRIL (either 10-6 or 1-6). Well mostly M-T-W-TH-F-S. I did absent myself twice though. and some days if Kuya Herbie was happy or because of an accident, we'll have a day off so technically it wasn't every single day. When I first learned that I was a national discipline awardee, I just thought that it was just an award that Ms. Bagsic suggested that I join so that I'd have a medal or something. I didn't expect commitments or life-changing situations. Before we became awardees, we were asked to write the usual essay of "How, as an NDa, will I be able to change the world?" Well I just wrote something about Singaporean prime minister, Lee Kuan Yew, and learning to change yourself first before you may change the world and all that
crap
stuff. So when I was chosen, I didn't expect that I'd get in an organization that really changes lives. Ironic isn't it? Well it's irony for me anyway. And to think that in other schools, it was either the valedictorian or SCCB president who gets this award and that some even fight for this because of the ahem... cash award (7.5 dude!! 7.5!!) I thought that it was really cool!
But of course, the 7.5k was depleted because of gas, food and stuff you needed when you go to Makati everyday and you live an hour away from the place. What made this experience very special was the people. The peepz made it happen. The peepz made this summer one of the most memorable and unforgettable event of my life. I mean look, praying wouldn't be the same anymore (right guys?) and I would always look for one of Marck's crazy adventures, or my adopted daughter's high-pitched voice (but who has A BOOMING SINGING VOICE!). Life would go on but some things wouldn't be the same anymore. I look at a giraffe and I would go - HEY TRIXIE! or something. This summer will be full of nostalgic memories, and I hope that I'd be able to go to our outing this Sat. Due to unfortunate circumstances (__rents. you gets?), i'm not sure if i'll be able to go. Darn! So guys, I just wanna say thank you. Thank you!!!!!!! *hugz*
AYF 2008 presentation numbers
1. Circle of Life
2. Broadway Medley
3. You Can't Stop the Beat
Complete Cast of AYF NDA batch 2008 with alumni participants
1. Tracy
2. Romari
3. Pam
4. Marchelle
5. Kuya Ron Li
6. Kuya JM
7. Kuya JP
8. Ate Cynthia
9. Raymond
10. Trixie
11. Miele
12. Babaji
13. Cathy
14. Marckk
15. James
16. Darlyn
17. Jearisse
18. Paolo
19. Denden
20. Jerjie
21. Mitch
22.Trish
23. Paul
24. Relyn
Choreographer:
Kuya Herbie
Ate Nicole
Ate Chantal
Manager, Organizer:
Kuya Marco
Thanks rin po sa mga nagmake-up sa amiN! Forgot their names na kasi... lolz!!
Hosts:
Febie and Nico!
April's also a month of debuts, a month of watsalaks and you can all check them out of multiply! I'm just so glad that I'm able to catch up with my bestest buds Daynel, Chu, Bobs and Chair while the sun hasn't set yet. I can proudly say that I've been to all of their homes and that we've done a lot of things together as a barkada na! Heehee over night uli!! lolz, mum will kill me!!!
Another awaited event for me last April was our EK escapade which was organized by Franz and attended by me, Jin, Daynel, Matt, Chu and Lourdie! That event was a series of Pacheese-burger commercials which they have so pleasantly enlightened me on the idea why everyone was so crazied about it. I mean, PACHEESE BURGER NAMAN KAYO OH! haaha lolz! Anyway, aside from getting extremely WET from the rapids and log jam, I had a splendid time! I missed you all my SJ friends and I long for the Baguio trip that we'll be having in 2 years time! (FRANZ AH!! SABI MU!!! heehee)

ayan kami!!! heehee RED NA RED!
Movies and series of course, rain or shine, will always be inside my heart home so I've been acting couch potato after practices (no wonder I didn't get thin despite all the buckets of sweat) and watching shows like

Ugly Betty season 2!
House season 4!
Pushing Daisies! LOVE IT!!
Disney movies (I GOT THEM AT A BARGAIN! ORIG AT 150PHP! hehe)
IRONMAN!!
and more! I've got a lot of movies here at home pa and there are some that I want to watch but haven't had (or no dvd!) yet like Pathology! US summer movies have officially kicked in and I can't wait to watch them all! Ironman WAS FREAKING GREAT! I mean greater than spidey 2 and 3 but i think batman begins still kicked ass but still, IRONMAN WAS DA BOMB! I was able to watch it 2x and it's just the 4th day! Addict ain't I? Sure there were some cheesy lines and predictable moments but at least there was no whiny heroine, no lunatic screaming madmen, and whatnot, but the greatest thing about the movie was IT HAD SUBSTANCE AND PLOT. You got it, even though you aren't a comic book fan. You just got it. lolz. and Robert Downy Jr. is the perfect Tony Starks. Just go watch it and you'll know what i mean. The movie even distracted me from my aching feet (oh i forgot to tell you guys the story of how my brother, chair and I walked all the way from rcbc tower to powerplant. well it was april 30, and the whole family wanted to watch it. since my bro and chair watched my performance and we were done at 5-6, mum told us to go ahead to powerplant and hitch a taxi. unfortunately... no taxis were available and we just walked it off. 45 minutes of nonstop walking in polluted was NOT invigorating i tell ya. it's actually dusty and smoky. we even had to pass by a red light district! i never thought that I'd be so happy to see powerplant!!)
I'll be getting a molar extraction surgery tomorrow and I'm scared. I'm supposed to be helping with the JLTC but I can't. I won't be able to go to the Chimes meeting tomorrow too. Oh what a tooth extraction can do! IT CAN KILL A PERSON'S APPETITE. But it can make me thinner? LOLZ! Aneroxia here i come! heehee. so there i'm scared. And Stephie narrated to me the ordeal she has gone through.... OH WHEN WILL IT END?? Lord help....
Tita Rose has been learning how to do nail art designs (you know like the ones here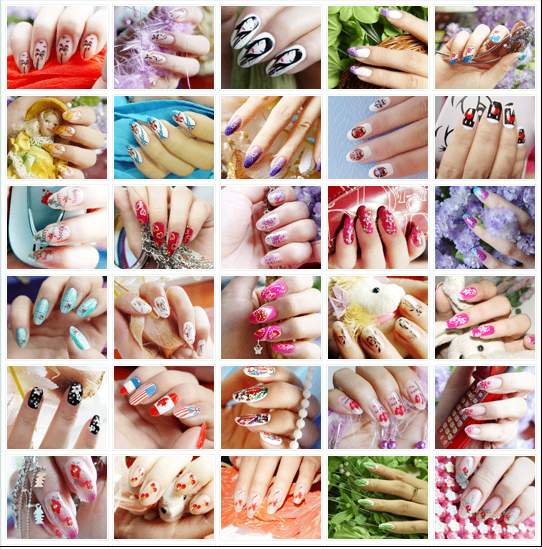 from a Korean woman who does these seminars for free. My mum was the first model for the whole nail thing but unfortunately Happy our shih tzu gave birth yesterday (3 puppies!) so she couldn't go yesterday. I took her place and now look, 3 of my fingers have nail extensions! There's no art yet, but I can't wait till next tuesday! or wednesday? That's the next session! haha! It is harder to type though... hehee


I think I'll be able to blog again. Or not. No guarantee! But in the meantime, catch my pics on my multiply!!
www.jynxedpanda.multiply.com
! GO VISIT! =)
and btw, CONGRATS TO MUMMY SCARTYY! I know that this is soo belated but let's congratulate the mommy for bringing another cute child into this world last April!! weee!!

Updates when I update! :cool

Labels: adventure, ayf, baby, blog, friends, movie, multiply, tv

|
stolen @ 5:27 PM