Tuesday, March 27, 2007


Dreams and Puzzles..

*UPDATE!!*
Yay I got an award for finding the treasure at Kellytop(joanna)'s site! wow.... this is such an AWESOME award! Thanks soo much!! (hugz!!)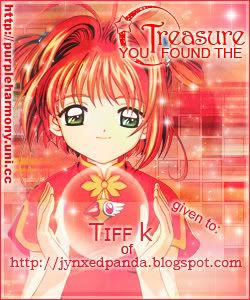 I've been meaning to write here since Sunday but you know... boredom got to me =) heehe. So I finished another 2 books *yey I'm finally getting back to my bookworm roots!*, finishing HOUSE season 3 and then finished the clearance!! waheee!! =)


Last Sunday my family went out for lunch with our landlord (we just rent the house we're living in) to catch up on things and to also discuss on the house's prospects (they're planning to sell it since they're already a bit elderly say, 82 years old!! but they are still dang strong!). What made that meeting special was his inspirational and motivating life story. You know, those like Chris Gardner's stories. I think that he could really become a great prof but too bad he's not.. Shucks! Well, he made me realize that I should start
dreaming
. BIG TIME. Since the start of high school, I've felt like Kenshin, the wandering samurai (except I am not, a samurai I mean). I was a wandering soul drifting off towards different lands and feeling like I don't belong anywhere. He also said that once you have that dream, you got to FOCUS. Focus your mind and soul into achieving that dream and maybe you might not get what you want, but you'll be given something worth even more. So I got to stop wandering aimlessly for pete's sake. At least I should have a short term goal right? Like in that Caltex (was it caltex?) commercial. Well time to choose a profession for me. I already have narrowed down my list and going to work for Disney (i want to help make their animated movies!) or Apple, is one of them... Now how do I get there... HELP ME GOD!
Oh and thank God my Guakong (grandpa of mom's side) has finally left the hospital today! He was admitted some time last week because he tripped while trying to turn the aircon off and sort of... squashed a bone in his spine but he's A-OK now! He just can't walk because of backpain but he's OK. =)
Hm... puzzles!! I miss making puzzles. Maybe I'll dash off to heavenly stitching moments or a puzzle house and go give myself a challenge! I went to school today to return all the clearance and met Timms and Stephie along the way. Timms was talking about his 9,000 pc. puzzle and my love for puzzles came back! Now I'm itching to hold one! ANYBODY HELP?? hahaa! Stephe also narrated her very very... weird... BYGON-ish dream involving teachers and chainsaw. Lolz!
Well I can't really say much now. Oh, gotta read K-Zone! yey kiddie!!
Updates when I update =) heehee
Labels: dreams, happy, hospital, kiddie, puzzle

|
stolen @ 12:41 PM