Wednesday, May 09, 2007


Depressed yet happy???

PLUGS:

Karla

,

Kevin

,

Meredith

,

Sarabeth

,

Shari

,

Danwei

,

Alyanna

*UPDATE
HAPPY MUM'S DAY TO ALL THE MOTHERS OUT THERE!! =) Have a fun-filled day with your kids and family! =) *hugz* to Momsie Kitty, Momsie Scart, Momsie Laine and Momsie Rose!!!

I feel better now thanks to all the people out there! =) I just received these awesome gifts from Ate Kitty and Kellytop!! =) Love ya guys!!! =)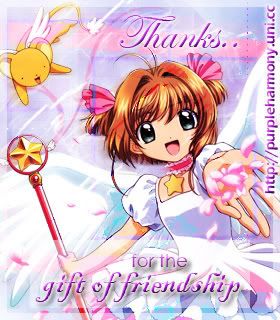 I also go a Visual DNA! I saw this on Ate Kitty's blog and decided to get one too! I think it's really neat! Don't you? hehee






If you think that this post is weird, well it's going to get weirder. Again, after drooling over some nintendo ds lites on the net, I decided to give it a shot and join Bob's contest!


*UPDATE*

Before anything else, I'd like to give a shout out: It's Raichu's birthday tomorrow!! Give her some love!! *hugz* You're getting old na Chu-chu!! hehee Can't wait sa friday! =)
I haven't been blogging lately because of scouting training AND because of getting sick. You know those kinds of sicknesses wherein it leaves your throat DRY and leaves with a BIG GASH on your throat and it hurts LIKE MAD??? I hate those kinds. Good thing the pain has gone but the cough is still there.
I also haven't been blogging lately because I feel so low. One look at the calendar and I can't stop thinking only ONE MONTH to go and school's here yet I don't feel I had a break at all. Once school ended I immediately had advance math classes and then there was the problems class at Ateneo, then scouting training, then La Salle Computer Camp, and then another scouting training, and then College review! wahhz.... It doesn't mean I didn't have a great time (I loooveddd my experience at La Salle, don't get me wrong) but it's that I didn't have a break from working. I can't help but be envious of other people who are currently out of the country or going to some beach or another. I should be thankful for having all these kinds of opportunities but still.... sighs... I wish I could anywhere but here...
I miss the people too, my classmates, fellow campers, batchmates. Again, that thought of being 4th year hit me again. We only have one more year with each other but I still know oh so little of the others. I miss traveling, the airports, seeing new things, experiencing new things. I miss laughing at myself, taking pictures, visiting famous places, buying new stuffs. I miss a lot of things.
I can't really say how I feel right now. I just feel so sad. Like I'm all alone. ='(
One good thing happened though! I just found out that I'm one of the finalists at
Candy's Teen Blog Awards
for Best Blog Design! Amazing??? IT'S WEIRD! I mean, this old moldy layout was the one they liked?? Cool! hehehe. If you think I deserve it, pls vote! And vote for
Ate Irish
for Best Overall blog and People's Choice! =) Pls vote
here
!
Well, that's something to be happy about. But still... sighs.. Oh, am currently watching
Ugly Betty
on dvd (it's really a GOOD series!) while drowning my sorrows. I wish I could be like her... I have the Ugly part. Now how to become optimistic, bubbly and smart like her???

My Lot - Pay to Post discussions!

Labels: awards, depressed, missing, ugly betty

|
stolen @ 8:20 PM