Saturday, May 20, 2006


A really really LONG post PART 2: Real Life

PART 2: REAL LIFE


PLUGS:
Nyurnie
,
Ivy
,
Rouchelle
,
Rose
,
Jais
,
Exene
,
Irish
,
Sheryl
,
Kamimeto
,
Nicole
,
Faye
,
Gwen
,
LOVE
,
Scart
,
Tammy
,
Cateh
,
Em
,
Anneke
,
Noreen
,
Jhesca
,
Nadja
,
Shari
,
Isha
,
Jays
,
Kitty
,
Danwei
***WARNING!!!! LOOONG POST AHEAD TO MAKE UP FOR TIME LOST!!***
[EDIT2] Since mostof you were clamoring for pics of the young guns, here they are! =)



Cute nila noh?? hehee.


They are shih tzus by the way and we're selling them! They're only 8 days old so I won't be giving out the price yet so just comment or tag if you're interested lang =) ehhee.

Here are my other doggies pa!! Share ko lang



Here's my baby L.A.! She's currently pregnant so watch out for new babies next month! =)




here's Hollywood the 2nd! hehe




Here's jody up close =)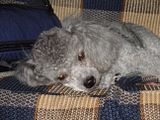 And here's the resident model and cutie, Paris!



Last but not the last is gorgeous Daenah!
[/EDIT2]

[EDIT]
I cut my first post into 2 parts coz I thought that it was just too long.. If you want, please read the Part 1 first or part 2 first or any one.. it is your choice. Hehee. Hope you get to catch up with my life! =)
[/EDIT]


Hey guys! Just thought of makign this post longer so that it would be more interesting and not just full of scouting =) That wasn't the only reason why I was away. I was able to watch Mission Impossible III and it has got to be the best MI movie ever! Even though I don't exactly remember the last 2 movies, I can surely say that this one tops them all! There is not one free minute wherein you can stop and take a fresh breath because I'm sure that you would be focused on all the action. I think Tom Crusie has outdone himself and proved that he has a right to proclaim his love to the world (Okay.. maybe not..). I loved his acting skills (in the movie but take note, I don't really like Tom Cruise. lolz)) and you can really see the passion in the movie. So go watch it dudes! Another movie I've watched was the tale of the capsized ship, Poseidon, ANOTHER heart-stopping film. A bit more violent and gruesome than the Titanic but I think it carried out the plot well. It's a short film and don't expect anything romantic or exciting in the end. Remember that it's not Titanic. For me it was just an OK film.
And let's talk AI! AI as in American Idol (I know i'm not patriotic... heheee). I love watching American Idol coz, I don't know, I love the drama and the chance to see who gets to win it big and of course listening to Simon Cowell's comments. There just isn't a guy like him in this world and frankly, he's the only one I listen to. Okay, enough of the judges, how about the contestants? Who are your fave people? Originally, before the final 24 were picked, I was REALLY REALLY rooting for Kath coz I loved her voice. Reminds me of those great love song singers and remember that I love classics? Well her voice sounded perfect so I did root for her but as time went ticking by.. I started to see that she was a bit reckless and probably didn't deserve to be the AI. I thought of going for Chris on the night of the top 4 elimination round. I was SURE that Kath will go coz she hadn't been doing too well the past few weeks but WHAMMO! Chris is gone?? I mean it was sort of an outrage coz I know that he's a good singer and a LOT rooted for him (my bro is a die-hard Chris fan!) and he was even the bet to win AI but no? He was not even in the top 3! So came this week. Last night, i was once again sure that McPhee will go but... ELLIOT?? Maybe I shouldn't have changed my bets but my bet is on Hicks now. Taylor is engagingly funny and knows how to move so I'm gonna pick him as the AI. I never thought that he'd go this far but yep, next week's Judgement day! Good luck to them!!
Does anybody here listen to the tunes of
Paul Anka
? The 60's teen-singer sensation? Well, upon hearing his arrival here in Manila, my parents (actually it was just my mom.. hehee) wasted no opportunity and got 3 tickets! One for me coz.. I don't know.. My bro definitely didn't like oldies so i guess I was left and I do love oldies. Wasn't that familiar with him though but what the heck, it could be a good experience and I wanted to see the difference of his concert from the concerts we have today. I was definitely sure that there would be no howling.
So I tagged along and I could clearly see after walking a few steps toward the coliseum that I may probably be one of the few young bloods inside coz everywhere I looked, all I can see were people like my mom. They were probably in their 40s and I saw that someone even looked to be 90! Whoa! Okay.. I did feel OP ( out of place...) and I couldn't back out now so here it goes... Once inside, a grand stage welcomed us! It wasn't engrande grand but lovely grand. Wait, you probably don't know what I'm talking about.. I did see some famous people here and there and some entertainers too, there was Jose Marie Chan, Rudy fernandez, some congressmen, etc. The concert started late and I was already a bit impatient. good thing there were pizza people there. heehee. But then I heard the music start and someone singing but there was no one on the stage!! Where could he be? I was shocked when I saw the spotlight focus on someone withing the audience and behold! Paul was strutting his stuff, interacting with the crowd and forgetting that he was 60. Man I loved the atmosphere! So I listened to him sing and croon for 2 hours and I didn't get bored, not one minute. It was probably because he took the chance of interacting with the audience. he made you forget that he was not someone important but just an old friend. I did love the slideshows of his family and friends and I got a kick to see him with hair! Lolz. He was also a pretty funny guy and also a humble one. He never forgot to introduce his bandmates (wait is that term correct??), actually he kept on introducing them, they were like family anyways. And Paul was able to make the crowd stand up and do a dance! He danced with the ladies too and made beso beso too! lolz. In the end, I also found myself grooving to his music and I looked back on my past concerts and I knew that no one can compete him. I mean I probably didn't scream or shout or jumped around like a lunatic but I enjoyed myself. Well hope he comes back again!
Turns out that I won't be able to go to camping tomorrow.. BUMMER!! I mean I want to be a part of the campfire presentation!!! Maybe I can go there on Saturday night.. OH PLEASE!! I went to the dermatologist yesterday due to my acne problem. Them little buggers are just sprouting all over my face (forehead to be exact) and back and chest! GRAR! I have to have cleaning and acne laser treatment and I assure you, having your pimples pricked is NOT something to be looked down upon because you will want to SCREAM!!! Really it hurt soo bad I wanted to cry. Give me the laser, anything, just not the pricking! GRAR!! :grr.. So therefore.. I can't be exposed to too much sun and heat. I currently look like I have measles right now so beware! hehee
On to lighter news.. OUR DOGGIE GAVE BIRTH!!! Happy (a gorgeous shih tzu) just gave birth to 3 healthy young pups! 2 females and 1 male except this one particular female which has a slight defect coz the fur around her eyes are white. It's supposed to be black but they do look cute! Anybody wants one? I think we're gonna sell them but am not sure. Will keep you guys posted! Been on a camera frenzy the past few days too. heehee. Will take pics! =) Well I think this is loong enough! Go read my scouting adventure now! =) Read on!!

|
stolen @ 1:30 PM